Health & Social Services
The establishment of a modern health care and social services system has been one of Saudi Arabia's most stunning successes.
The Saudi health care network provides free care to the general public and some of the most sophisticated specialized care available anywhere in the world.
The government also sponsors a wide range of social services programs aimed at ensuring that every citizen has a decent standard of living.
Establishing a Modern Medical Network
Before the Kingdom of Saudi Arabia was established in 1932, health care was generally provided by local healers. One of King Abdulaziz's first initiatives for his new state was to establish free health care, not just for citizens, but for the pilgrims who come to the Kingdom to visit the Islamic holy sites.
As a result, medical facilities were set up throughout Saudi Arabia. Within a relatively short period of time, once-endemic diseases such as malaria and smallpox were virtually eradicated, the infant mortality rate plummeted, and life expectancy rose sharply.
The Kingdom's health care system also benefited tremendously from the government's five-year development plans, the first of which was launched in 1970. These ongoing plans promote development in areas such as agriculture, commerce, industry, transportation, communication, education and health care.
The first four development plans (1970-1989) brought dramatic changes to the Saudi health care system. In the beginning, the emphasis was more on establishing the necessary infrastructure of hospitals, clinics, pharmacies, laboratories and research facilities.
As these facilities were put into place, the emphasis gradually shifted to the improving the quality of medical care and services. The Kingdom encouraged more Saudis to pursue careers in health care, and took steps to attract qualified medical personnel from abroad. Technology was continually updated and the latest medical advances incorporated. Saudi facilities also established working relationships with leading specialized hospitals around the world.
The transformation of the Saudi health care system since 1970 has been astonishing. In 1970, there were 74 hospitals with 9,039 beds; by 2005, there were 350 hospitals with nearly 48,000 beds.
The Ministry of Health and other government agencies have established most of the health care facilities throughout the country. The government has also encouraged greater private sector involvement by offering long-term, interest-free loans for the establishment of hospitals, clinics and pharmacies. By 1990, the private sector accounted for 27 percent of Saudi health care services.
Quality Care, Accessible to All
Today, Saudis have access to a national network of thousands of hospitals and clinics, and can obtain virtually any specialized medical treatment they might need in the Kingdom.
Sophisticated surgical procedures such as open heart surgery and organ transplants are routinely performed in Saudi hospitals by medical professionals that meet the highest international standards. One area of particular note is the success in separating conjoined twins by medical teams at a number of National Guard hospitals.
In addition, Saudis medications are readily available to patients at a low cost thanks to subsidies from the government. Saudi companies are also encouraged to manufacture pharmaceuticals.
Health Care Network
Saudi Arabia's health service plan consists of two tiers that together meet all its citizens' needs from preventive care through advanced surgery.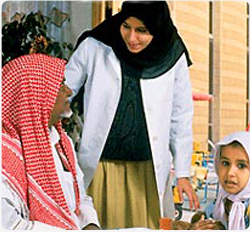 The first tier consists of a network of primary health care centers and clinics throughout the country that provide preventive, prenatal, emergency and basic services. In addition, a fleet of mobile clinics provides remote rural areas with services such as vaccinations and basic medical care.
These centers and clinics have greatly improved health standards by making health care available to the general public. They were key in reducing the Kingdom's infant mortality rate from 68 per 1,000 live births in 1980, to 18 per 1,000 live births in 2003. Close to 100 percent of all Saudi children are vaccinated against common diseases.
The second tier of the Saudi health service plan consists of a network of advanced hospitals and specialized treatment facilities. Located in major urban areas, these facilities are accessible to all. Like the centers and clinics, the hospitals and specialized facilities have also experienced a rapid growth.
In 1970 there were 74 hospitals with just over 9,000 beds in Saudi Arabia. By 2005, there were 350 hospitals with nearly 48,000 beds serving 22.7 million people. Saudi Arabia's ratio of one hospital bed for just under 500 people is among the lowest in the world.
The Kingdom's health care program is primarily run by the Ministry of Health, which operates 62 percent of the hospitals and 53 percent of the clinics and centers. The rest are privately operated, but their functions and staff training are supervised and supported by the Ministry. Some government agencies, including the Ministries of Education and Defense, the National Guard and the Public Security Administration, have their own hospitals and clinics.
There are now about 34,000 physicians in both government and private health sectors. Twenty percent of those physicians are Saudi, with the rest from all over the world. The number of nurses has increased to around 70,000, both male and female.
A Leader in Specialized Medicine
The Kingdom has a number of specialized hospitals that provide quality care in a variety of areas, including obstetrics and gynecology, respiratory ailments, psychiatric care, eye disorders and contagious diseases. There are also a number of convalescent facilities.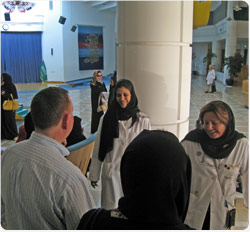 The King Faisal Specialist Hospital and Research Center in Riyadh is a prime example of Saudi Arabia's modern hospital system. It has built a reputation as a leading medical and research center in the Middle East, and attracts patients from as far away as the Philippines, South Africa and the United Kingdom. It has departments in many medical fields, and performs both general and specialized surgical procedures.
The King Khalid Eye Specialist Hospital in Riyadh is one of the largest eye hospitals in the world. Established in 1983, it has performed complex surgical operations including cornea transplants and laser procedures. The hospital also has a program to train ophthalmologists.
Organ transplant procedures are routinely performed in the Kingdom. For example, the King Faisal Specialist Hospital and Research Center, which specializes in kidney and liver transplants, performs hundreds of operations annually, including bone marrow transplants.
Saudi hospitals have also been pioneers in other types of organ transplants. For example, the first uterus transplant in the world was performed in 2001 at the Soliman Fakeeh Hospital, a private facility in Jeddah.
Similarly sophisticated surgical procedures are performed at most Saudi hospitals. World-class cardiology centers in the Kingdom's top hospitals routinely perform open heart surgery, and many medical centers throughout the Kingdom offer specialized cardiac care.
The most famous of the hospitals specializing in cardiology is the King Fahd National Guard Hospital in Riyadh, which performs more than 750 cardiac procedures each year. There are other cardiology hospitals in Jeddah, Makkah, Madinah and Dammam. Recently, two cardiology centers were opened in Riyadh and Jeddah exclusively for the treatment and research of heart diseases.
The National Guard Health Affairs organization has gained an international reputation for the separation of conjoined twins. In March 2006, the King Abdulaziz Medical City in Riyadh successfully carried out its 11th such operation, the 14th in the Kingdom since 1990.
Another growing field in the Kingdom is dentistry. In addition to dental clinics and specialized dental hospitals, over 150 mobile dental clinics serve residents of remote villages.
At the Forefront of Medical Research
Saudi health care facilities conduct advanced medical research with potential benefits for patients around the world.
For example, the research center at King Saud University's School of Pharmacology has developed promising new drugs, including one for diabetes.
At the King Abdulaziz University and King Saud University's College of Science, scientists are studying radioactive biotopes to determine the effect of antibiotics on bodily functions.
Scientists at King Khalid University Hospital are testing indigenous medical plants for potential benefits to cancer treatments. The National Guard's King Abdulaziz Medical City in Riyadh is conducting research on artificial hearts.
And the King Faisal Specialist Hospital and Research Center – along with similar facilities in the Kingdom – has recently been conducting pioneering research in the area of stem cell transplants.
Social Services Network
Saudi Arabia's social services system aims to ensure every citizen a decent standard of living. This commitment to the well-being of the community underlies the Kingdom's social stability and is in line with Islamic principles.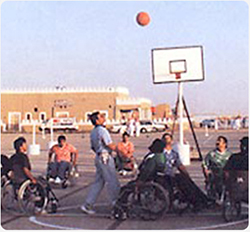 Saudi Arabia offers a wide range of social welfare programs. Administered by the General Organization for Social Insurance (GOSI), key programs support workers or their families in cases of disability, retirement and death. A plan to cover employees who suffer occupational hazards was instituted in 1982 and has since helped millions of workers.
Another major program provides social security pensions, benefits and relief assistance to the disabled, elderly, orphans and widows without income. The Kingdom continues to ensure that the assistance meets its recipients' needs by increasing the monthly stipends of social security recipients depending on individual status and need.
These programs are also mindful of patients' comforts and sensibilities. Whenever possible, care is provided at home rather than in an institution.
Care for the Disabled
Saudi Arabia also offers facilities to treat and rehabilitate the mentally and physically disabled. One type of facility offers services for medical, physical and mental treatment and rehabilitation of patients. There are currently 18 such centers, operated or supervised by the Ministry of Health.
A second type of facility focuses on the social rehabilitation of the handicapped. These are run by the Ministry of Social Affairs. Centers throughout the country teach the mentally and physically impaired social, educational and vocational skills so that they can enter society as independent, productive individuals. There are also special education institutes for the blind and the deaf throughout Saudi Arabia, and centers for disabled children.
Non-profit organizations also help people with special needs. an example is the Jeddah Institute for Speech and Hearing (JISH), established in 1993, which offers advanced services for those with speech and hearing deficiencies. The Help Center in Jeddah (Markaz Al-Aoun), established in 1986, offers programs for children with physical and mental disabilities.
Housing Construction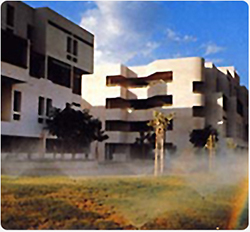 Another aspect of Saudi Arabia's social services network is providing housing for the country's fast-growing, young population. The government has been active in both financing and constructing housing for low-income Saudis, public employees and students.
A particularly important policy has been to provide interest-free, easy-term loans for home construction to individuals and companies. The Real Estate Development Fund was established in 1975 for this purpose. Since then, it has financed tens of thousands of private homes, and provided millions of dollars to the private sector to build housing units, stores and office buildings.