Energy
The energy sector is the backbone of the Saudi economy. The Kingdom possesses a quarter of the world's proven oil reserves, and is the world's largest producer and exporter of oil.
Saudi Arabia is also developing its additional energy resources – natural gas that once flared off oil wells is collected and used, and the Kingdom has become a producer of refined oil products and petrochemicals such as kerosene, diesel oil and gasoline.
In addition, with the discovery of deposits of precious and semi-precious metals, Saudi Arabia expects to become a major exporter of minerals in the coming decades.
Saudi Arabia has taken steps to expand the energy sector and encourage greater investment, especially by foreign companies. In May 2000, the Supreme Council for Petroleum and Minerals (SCPM) – which oversees the maximization of natural resources – announced a decision to allow foreign investment in the gas sector and downstream industries.
Saudi Arabia continues to invest in the energy sector. In September 2006, the Kingdom announced plans for $70 billion in oil and gas programs over five years.
Electricity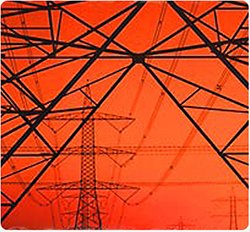 Saudi Arabia has a massive electricity distribution network that extends to cities, towns and villages across the country. Its network consists of 8,750 miles of transmission lines, 52,000 miles of distribution lines and over 53,000 miles of service connections.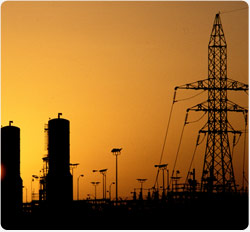 The Kingdom also uses desalination plants to generate electricity using the steam that is a byproduct of the desalination process. The Kingdom generates more than 26,300 MW of electricity, 2,800 MW of which is produced by the desalination plants. Saudi Arabia eventually plans to increase the electricity produced by these desalination plants to equal half of the total output.
The Saudi Electric Company (SEC) manages existing power generation, distribution and delivery facilities, as well as investment in new general plants. Wholly owned by shareholders, the SEC also sets the price of electricity sold to consumers and industry under rules set by a governing body based on the cost of production, distribution and services.
Gas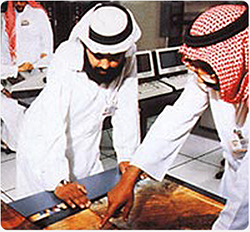 Saudi Arabia possesses vast reserves of natural gas – dissolved, associated and non-associated – which it uses as an environmentally friendly energy source for urban and industrial use.
Major industrial facilities also use gas as feedstock to produce petrochemicals, fertilizers, steel and other products that in turn feed a thriving industrial sector.
Exploration of the Kingdom's natural gas resources remains ongoing. Major deposits have been discovered in the Eastern Province near Abqaiq and southwest of the Ghawar oil field.
Until the 1970s, most of the natural gas produced in the Kingdom was in association with crude oil production, and was flared off at the well. An ambitious project known as the Master Gas System allowed Saudi Aramco to collect the gas and pipe it around the country.
Saudi Arabia also actively promotes foreign investment in natural gas. In July 2003 an agreement was signed with Royal Dutch/Shell and France's Total to develop upstream gas operations in the Empty Quarter (Rub' al-Khali). In March 2005, additional contracts were signed for two vast oil and gas projects.
Mineral & Mining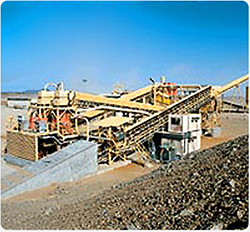 Saudi Arabia possesses valuable resources other than oil and gas. As early as 1000 BC, gold, silver and copper were being extracted from the famous Mahd Al-Dhahab mine some 180 miles northeast of Jeddah.
The introduction of modern mining and extraction methods has once again made the mine a major producer of precious metals.
Exploration projects over the past two decades have unearthed extensive deposits of precious and industrial minerals throughout the country. These include not only gold and silver, but also copper, tin, tungsten, nickel, chrome, zinc, lead, phosphates, iron ore, bauxite, potassium ore and even table salt.
The Kingdom is also probing the mineral-rich sediments on the Red Sea floor for commercial exploitation, with plans to process them at the Yanbu industrial complex.
The Saudi mining company, Maaden, has embarked on a project to mine phosphate in the north and process it at a fertilizer plant near Jubail. This project is scheduled for completion in 2008. Meanwhile, Maaden is in the process of privatizing its activities, beginning with its gold-mining operation.
The Ministry of Petroleum and Mineral Resources has identified 1,270 sources of precious stones and 1,170 sources of other minerals, and issues an increasing number of mining and exploration concessions.
Steps have also been taken in recent years to encourage greater private sector involvement in the development of the mining sector. These include incentives for investment by both foreign and domestic companies, and support services intended to facilitate development of minerals.
Oil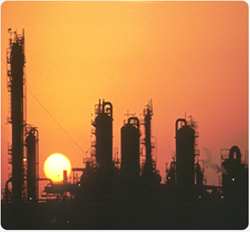 Saudi Arabia is the world's largest producer and exporter of oil, and has one quarter of the world's known oil reserves – more than 260 billion barrels. Most are located in the Eastern Province, including the largest onshore field in Ghawar and the largest offshore field at Safaniya in the Arabian Gulf.
Saudi refineries produce around 8 million barrels of oil per day, and there are plans to increase production to around 12 million barrels per day.
As the world's largest producer and exporter of oil, Saudi Arabia plays a unique role in the global energy industry. Its policies on the production and export of oil, natural gas and petroleum products have a major impact on the energy market, as well as the global economy. Mindful of this responsibility, Saudi Arabia is committed to ensuring stability of supplies and prices.
The Kingdom has repeatedly acted in times of crisis – such as the Gulf Crisis of 1990-91, the 2003 Iraq war and market fluctuations of the late 1990s – and covered any drop in oil supplies by increasing its output. In this way, Saudi Arabia has prevented major shocks to the global economy from a loss of supply or sharp price increases.
The Story of Oil in Saudi Arabia
The story of Saudi Arabian oil goes back to 1933 when King Abdulaziz bin Abdulrahman Al-Saud granted Standard Oil of California (Socal), later renamed Chevron, the right to prospect for oil in the new Kingdom.
In 1938, Socal discovered large quantities of oil in the Dammam Dome near the Arabian Gulf. Limited exports began in 1939, and picked up significantly with the end of World War II.
In the late 1940s, Socal entered into a consortium with other American oil companies and was renamed the Arabian American Oil Company (Aramco). By the 1970s, Saudi Arabia had become the top producer and exporter of oil in the world.
The Saudi oil industry entered a new era in 1980 when the government assumed full ownership of Aramco, renaming it Saudi Aramco. The company began exploring in areas that had previously been untouched, and discovered vast deposits of high-grade crude oil. Saudi Arabia continues to find new fields – such as one discovered 175 miles southeast of Riyadh on April 20, 2005.
OPEC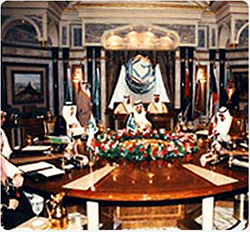 Saudi Arabia's oil production varies according the state of the market and guidelines set by the Organization of Petroleum Exporting Countries (OPEC).
Created in 1960, OPEC unifies petroleum policies among its member countries and ensures stability in international oil markets by eliminating fluctuations in prices.
As a founding member of OPEC and its largest producer, Saudi Arabia has a leading role in guiding the organization to promote cooperation in energy issues, often acting as OPEC's principal moderating force.
Over the years, the Kingdom has helped prevent market crises that threatened to harm both oil producers and consumers. For example, during the Gulf Crisis of 1990-91 global markets lost four million barrels per day of crude oil supplies from Iraq and Kuwait. Saudi Arabia immediately responded by increasing production and averted what could have been a disastrous shortfall in global supply.
The Kingdom made similar adjustments to its production during other times of turmoil that threatened the global oil supply, such as the market fluctuations of the late 1990s, the 2003 Iraq war, labor unrest in Venezuela, supply disruptions in Nigeria and conflicts between Russian oil giant Yukos and the Russian government.
Refining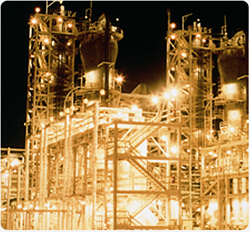 Saudi Arabia has nine refining complexes that produce gasoline, fuel and diesel oil, liquefied petroleum gas, jet fuel, kerosene and other petroleum products for the domestic market and for export.
Considered among the most technologically advanced in the world, these refineries have an output of eight million barrels per day of petroleum products, most for export.
The Kingdom continues to invest in its refineries. In May 2005, Saudi Aramco announced plans for a new refinery in Yanbu with an anticipated capacity of 400,000 barrels per day of petroleum products. Plans are also underway for a new refinery at Jubail that is also expected to have a capacity of 400,000 barrels per day.
Saudi Arabia has entered downstream operations in other countries, including South Korea, the Philippines, Greece, India, and China. Motiva – a joint venture between Shell Oil Company and Saudi Refining Inc. – refines, distributes, and markets oil products in the United States.
Solar Energy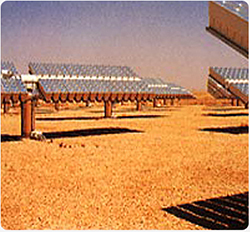 Saudi Arabia is also looking at alternative energy sources, including solar energy. The Kingdom receives some of the most intense sunlight in the world – 105 trillion kilowatt hours a day, which is roughly the equivalent of 10 billion barrels of crude oil in energy terms.
Solar energy is also an appropriate energy source for use in remote locations. As an example, it is used to power emergency telephones and signs along vast stretches of desert roads.
Scientists at the King Abdulaziz City for Science and Technology (KACST) are working on groundbreaking projects to make solar power generation more economically feasible.
Other programs focus on utilizing solar energy for water desalination, agriculture, and the generation of hydrogen. Projected applications for solar energy include using it to power water pumps, refrigerators, air conditioners, heaters and communications equipment, as well as to run pipeline anti-corrosion units in remote areas.